Getting Started
BASEline is a set of tools designed to help skydivers and BASE jumpers improve wingsuit flight performance. BASEline consists of two parts:
BASEline Flight Computer is an android app that uses phone sensors to provide audible and visual feedback on speed and position, as well as logging data for later analysis.
https://baseline.ws is an interactive website to help process and analyze flight data.
Warning: Skydiving, BASE jumping, and wingsuit flying are inherently risky activities. Data in BASEline may be inaccurate, and you should not make life or death decisions based on it.
Skydiving
BASEline can be useful in multiple ways in the skydive environment depending on your goals. The two main uses in skydiving are 1) data logging for later analysis on the ground, and 2) In-flight audible feedback of your speed or glide ratio.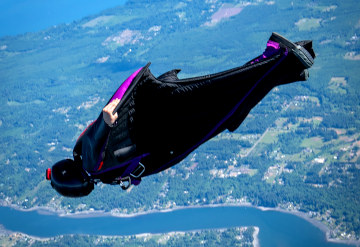 Hardware Setup
Documentation on setting up your phone and GPS can be found here.
Logging Flight Data
Documentation on recording flight data using the BASEline app on your phone can be found here. Or use a FlySight.
Audible Feedback
1. Prepare for flight
Figure out how you are going to configure your gear with BASEline while on the ground. There are many options for where to put your phone, and how to route audio to your ears. Audio can be difficult to hear without a full face helmet and good quality headphones. Noise isolating earphones work best.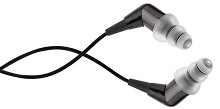 While still on the ground, open the BASEline Flight Computer app. From the home screen, long-click the Audible button to open the audible settings.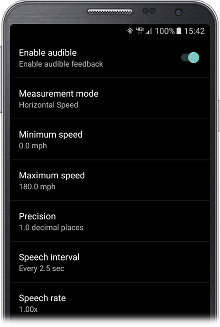 The audible will speak to you while in flight. Current audible modes include:
Horizontal Speed
Vertical Speed
Total Speed
Glide Ratio
Navigation
The audible will only say a measurement if it falls between the min and max settings. The speech interval controls how often the audible should read a measurement out loud. The speech rate controls how fast the speech-to-text engine should speak.
Navigation mode is intended to help navigate to a predetermined home location. From the main screen, click "nav", and drag the map so that it is centered on your target location. Once it is centered in the cross hairs on the map, click the pin icon to set the home location. Once the home location is set, navigation mode will read the distance and bearing to the home location, relative to your current location and flight path.
Note: Some phones come with poor quality text-to-speech engine (eg- Samsung). For best quality, install Google Text-to-Speech and set it as the default text-to-speech engine in your android settings.
2. Enable audible
Before jumping, open the BASEline Flight Computer app. From the home screen, long-press the Audible button to enable the audible.
The app should then speak the measurement mode, and begin reading data.
3. Refine body position
Experiment with different body positions and angles of attack. Using this feedback loop, you can learn to optimize your speed and glide ratio.
Analyze Flight Data
The best way to analyze tracks is to sync with baseline.ws, and review your flight data on the website. The BASEline app can also display flight data as charts in the app.
View on baseline.ws
In the BASEline app, click tracks, verify that you are signed in, click on a synced track.
Click "baseline.ws" to open the track in a web browser on baseline.ws. Click here for BASEline website help.
Click "earth" to open the track in Google Earth or Google Maps, depending on what apps you have installed.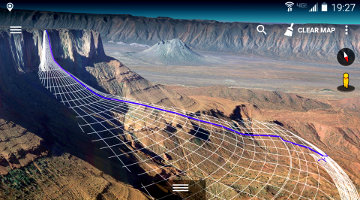 More information on how to read the charts on baseline.ws can be found here.