Getting Started
BASEline is a set of tools designed to help skydivers and BASE jumpers improve wingsuit flight performance. BASEline consists of two parts:
BASEline Flight Computer is an android app that uses phone sensors to provide audible and visual feedback on speed and position, as well as logging data for later analysis.
https://baseline.ws is an interactive website to help process and analyze flight data.
Warning: Skydiving, BASE jumping, and wingsuit flying are inherently risky activities. Data in BASEline may be inaccurate, and you should not make life or death decisions based on it.
Hardware Setup
BASEline Flight Computer uses a combination of sensors in your phone to determine its position and speed. Sensors used include: GPS, barometric altimeter, gyroscope, accelerometer, and compass. Results can vary dramatically from one phone to another.
Barometer
It is recommended you use BASEline on phones with a barometer, since it provides an additional source of height information that is generally more reliable than GPS. Most android phones today already include a barometer. However, be aware that high/low pressure areas around the body can affect altitude readings. Higher pressure inside a wingsuit can also cause errors in altitude reading.
GPS
Warning: Get a Bluetooth GPS
Your phone's built in GPS is not a good source of data. The GPS receivers in most phones update their location only once per second (1Hz). The antennas are usually not very good, and it is difficult to mount a phone on the back of your helmet.
It is strongly recommended that you use an external bluetooth GPS receiver such as the SkyPro XGPS160. These units give much better quality data and with a higher sampling rate (10Hz). Because they are smaller and wireless, they are easier to mount in a good location.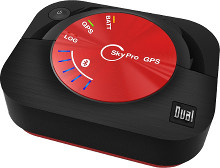 Mounting
It is critical that your GPS device has a clear view of the sky in order to acquire GPS signals. The back of your helmet is generally a good place to put your GPS receiver.
The location of your GPS unit can have a significant effect on the quality of your data. Think about where the "top" of your head is when wingsuit flying, it might be farther back than you think. A GoPro mounted too close can interfere with GPS signal.
FlySight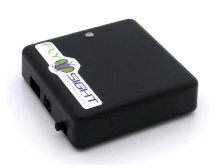 BASEline is compatible with FlySight. However, FlySight does not have wireless connections, so it is necessary to use a USB cable to copy files from your FlySight.
You can use a computer to upload files from your FlySight to baseline.ws.
You can also read FlySight files directly from the BASEline android app if you have a USB On-The-Go (OTG) cable. You need a cable that goes from male Mini-USB connector for the FlySight, to your phone (usually USB-C or Micro-USB).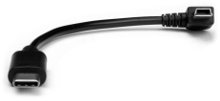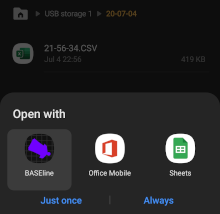 Audible Feedback
1. Prepare for flight
Figure out how you are going to configure your gear with BASEline while on the ground. There are many options for where to put your phone, and how to route audio to your ears. Audio can be difficult to hear without a full face helmet and good quality headphones. Noise isolating earphones work best.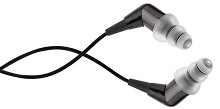 While still on the ground, open the BASEline Flight Computer app. From the home screen, long-click the Audible button to open the audible settings.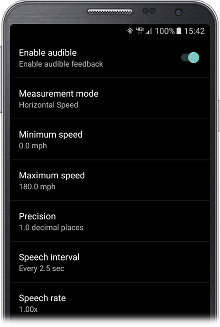 The audible will speak to you while in flight. Current audible modes include:
Horizontal Speed
Vertical Speed
Total Speed
Glide Ratio
Navigation
The audible will only say a measurement if it falls between the min and max settings. The speech interval controls how often the audible should read a measurement out loud. The speech rate controls how fast the speech-to-text engine should speak.
Navigation mode is intended to help navigate to a predetermined home location. From the main screen, click "nav", and drag the map so that it is centered on your target location. Once it is centered in the cross hairs on the map, click the pin icon to set the home location. Once the home location is set, navigation mode will read the distance and bearing to the home location, relative to your current location and flight path.
Note: Some phones come with poor quality text-to-speech engine (eg- Samsung). For best quality, install Google Text-to-Speech and set it as the default text-to-speech engine in your android settings.
2. Enable audible
Before jumping, open the BASEline Flight Computer app. From the home screen, long-press the Audible button to enable the audible.
The app should then speak the measurement mode, and begin reading data.
3. Refine body position
Experiment with different body positions and angles of attack. Using this feedback loop, you can learn to optimize your speed and glide ratio.
Logging Flight Data
1. Record a GPS track
You can use the BASEline Flight Computer app to log flight data using sensors in your phone. When you click record, BASEline will begin logging all GPS, altimeter, accelerometer, and other sensor data.
Track data will be written to CSV files on your phone.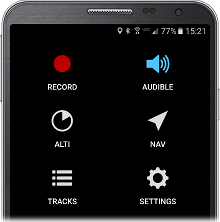 2. Sync tracks to baseline.ws
If you are signed in to your BASEline account, tracks will automatically upload when finished recording. If you are not signed in, or signal is unavailable, you can upload the track later from the tracks screen.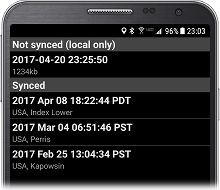 Analyze Flight Data
The best way to analyze tracks is to sync with baseline.ws, and review your flight data on the website. The BASEline app can also display flight data as charts in the app.
View on baseline.ws
In the BASEline app, click tracks, verify that you are signed in, click on a synced track.
Click "baseline.ws" to open the track in a web browser on baseline.ws. Click here for BASEline website help.
Click "earth" to open the track in Google Earth or Google Maps, depending on what apps you have installed.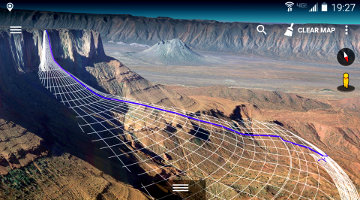 Profiles
The subterminal phase of a wingsuit BASE jump is the key to being able to jump in more places. To evaluate the feasibility of a jump you must know two things: your start performance in your wingsuit, and the shape of the cliff you want to jump.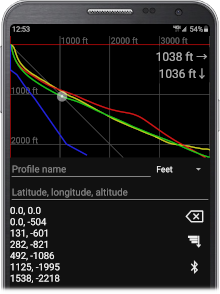 GPS Flight Profile
Measuring your start performance requires doing many jumps from a forgiving exit point.
Considerations: Altitude GPS signal quality can vary greatly, based on a number of factors including different hardware, mount location, and geography. For example, Lauterbrunnen has terrible GPS signal, because mountains on all sides block line-of-sight to satellites.
Terrain Profiles
Terrain profiles are a measurement of the shape of a cliff.
It is critical that you measure along a straight line. If measurements are not in a straight line, you will overestimate the steepness of the terrain. That plus the fact that energy is lost in turns means that it is critical that you measure along a straight line.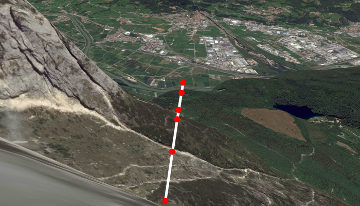 Profile Coordinates
There are different opinions on how to log terrain profiles as measured by a laser. The prefered format is x,y where x is horizontal distance and y is vertical distance (and should be negative). This system is unambiguous about which is horizontal and which is vertical.
20,-100
40,-120
100,-200
Other coordinate systems exist and are supported by BASEline. If you swap the coordinates, BASEline will detect that the vertical coordinate should be negative, and will correctly parse.
-100,20
-120,40
-200,100
Finally, if you measure a jump from the bottom of a cliff, the coordinates need to be translated to be relative to the exit point. Be careful when measuring from the bottom of a cliff, accuracy will not be as accurate from farther away. If BASEline sees all positive measurements, it assumes that the cliff was measured from the bottom and translates the coordinates. BASEline shows a warning when lasering from the bottom.
60,80
80,100
100,200
All three of the examples above represent the same cliff profile.
Laser Rangefinders
There are many laser rangefinders on the market, with a wide variety of features. Considerations when choosing a laser rangefinder for BASE jumping: What is its maximum range? Does it include an inclinometer, and can it do the horizontal / vertical calculation for you? What are the size and quality of the optics? Weight. Cost.
Recently a new type of laser rangefinder has been introduced that includes Bluetooth wireless connectivity. With a bluetooth laser rangefinder, it is possible to connect using the BASEline android app, and generate a terrain profile in the app as you measure the terrain using the laser. This makes the process of measuring terrain much faster and easier.
BASEline is known to work with the following bluetooth laser rangefinders:
ATN: LaserBallistics 1000, 1500
Sig Sauer: BDX series 1400, 1800, 2200, 2400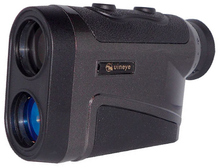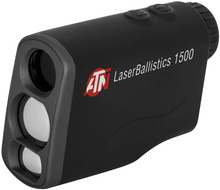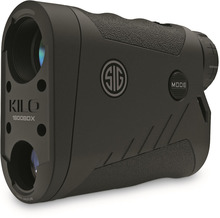 Uineye
The Uineye laser works great, but make sure you get the bluetooth version. Order one through Hartman here.
Laser Calibration
Warning: Always ensure that your laser is properly calibrated.
The Uineye laser comes set correctly, but long-pressing the trigger button resets the angle calibration to zero. This sometimes happens by accident, and can cause invalid readings. Before measuring an exit profile, verify that the measurements are sane by lasering something on-level. If your horizontal/vertical measurements are not making sense, the angle calibration is worth checking.
The Uineye User Manual can be found here.